ICMIF Welcome Reception
Tuesday 9 June 2020 - 19:00 - 22:00

This will be held in the Conference hotel, in the Library and Juhon Sali room, located on the ground floor. The kitchen of the Plaza Restaurant features the freshest Nordic ingredients and the most up-to-date food trends. This space blends historic design with modern furnishings will provide a welcome opportunity to meet with fellow delegates and accompanying persons as well as to sample some of the local cuisine in a buffet style dinner.
ICMIF Farewell Dinner and pre-dinner activity
Friday 12 June 2020 / 16:00 - 22:00

The MORO 2020 Farewell Dinner will take place in the World Heritage Site Suomenlinna, one of Finland's cultural treasures. Suomenlinna is a sea fortress, which was built gradually from 1748 onwards on a group of islands belonging to the district of Helsinki, when Finland was still part of Sweden. The fortress consists of 200 buildings and 6 km of defensive walls, stretching over six separate islands.
Today, Suomenlinna is one of the most popular tourist attractions in Finland and constitutes a district of Helsinki with 850 inhabitants. The fortress and its museums, restaurants and events provide a memorable experience for all visitors.
Details of activity and dinner:
Suomenlinna is accessible only by water, therefore ICMIF has organised a private ferry to transport delegates from the hotel to the Island and back again at the end of the evening. Delegates will meet at 16:00 in the lobby of the hotel in order to take a bus to the port and then the ferry. The trip to Suomenlinna takes 15–20 minutes and offers magnificent views of Helsinki and the surroundings from the sea.
From 17:00 we will enjoy a one hour walking tour of the island and our destination from 18:00 onwards for drinks and our farewell dinner will be the Walhalla restaurant. After the dinner, our private ferry will take us back to the port and then we will travel onwards by coach to the hotel. Arrival time back at the hotel should be around 22:30.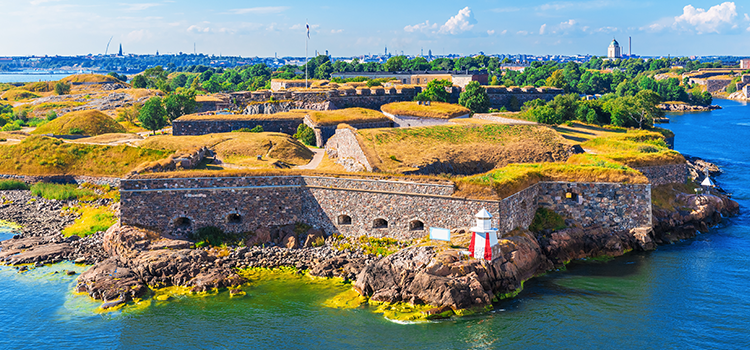 Optional Saturday Tour on Saturday 13 June 2020
Subject to sufficient demand, ICMIF will organize the following tours on Saturday 13th June 2020. When you complete your registration for the event, please let us know if you wish to attend one of the following:
Porvoo city for half day (€50 to €60*)
Tallin city (Estonia) for a full day (€120 to €160*)
*Final pricing for the tours will be confirmed when we have confirmed numbers for each tour.
Option 1: Half Day Trip to Historic Porvoo (09:00 - 13:00 lunch not included)
Quaint wooden architecture and historic charm make Porvoo an inspirational trip destination in the middle of Finnish countryside.
Tour includes
4h private guide services
4h private tour vehicle
Guided tour of Porvoo Old Town & visit to Porvoo Cathedral
Free time in Porvoo for shopping and coffee break
Tour description
As one of the very few towns established in Finland during the Middle Ages, Porvoo still carries the unique atmosphere of old world charm when strolling the cobbled streets of this 800-year old city. After a scenic countryside drive from Helsinki we will arrive to enjoy a guided walking tour through the picturesque medieval old town and along Porvoo River all the way up to Porvoo Cathedral. From its most famous landmarks, the red shore houses on the riverbank to the seasonal stunning flower garden in the back yard of the Holm House, your private guide will be happy to share the best kept secrets of the town of Porvoo.
Option 2: Helsinki to Tallinn Day Trip with Kadriorg Park & Lunch (09:00-17:00)
Enjoy a day of panoramic sightseeing in dynamic and modern Tallinn only a beautiful ferry ride distance from Helsinki.
Tour includes:
6h private guide service
Round transfer to/ from port in Tallinn
Two course lunch
Tallinn Old Town Walking tour
Free time in the city
Sightseeing drive to Kadriorg Park & Pirita
Tour description:
Your day trip to enchanting Tallinn starts with a 2-hour ferry crossing from Helsinki to Tallinn. From here, we will enjoy a guided stroll to the best of medieval buildings, scenic viewpoints and must-visit sites. Then a well-deserved break for lunch and some free time for shopping followed by a scenic drive to Kadriorg Park and Palace.
This wonderful introduction to Estonian culture and it´s unique capital of Tallinn comes to an end with a return transfer via the stunningly scenic Pirita seaside road back to the ferry port.