Hotel
Park Hyatt Mendoza Hotel, Casino & Spa is ideally located in the main business and banking district of central Mendoza.
Occupying a privileged location on Plaza Independencia, the hotel is only eight kilometres from El Plumerillo International Airport; 15 minutes from Mendoza's main vineyards; and 90 minutes from major ski resorts. Bright and spacious, rooms at Park Hyatt Mendoza have stylish contemporary décor. All of them feature cable TV, DVD players and work desks.
The hotel has many amenities including a restaurant, spa, gym, casino, golf course and swimming pool.
Rates
A special discounted group rate is available for ICMIF/Americas conference delegates as follows:
| Room Type | Hotel |
| --- | --- |
| Park and City View Room – Single & Double | USD 155 + VAT |
| Andes View Room – Single & Double | USD 177 + VAT |
| Park Deluxe – Single & Double | USD 235 + VAT |
A complimentary buffet breakfast, parking, internet and Kaua Club & Spa access are included in the rate.
Please note that international visitors receive a direct and automatic reimbursement of the 21% value added tax (VAT) charged on accommodation in Argentina upon check out.
Cancellation policy: Free cancellation up to 24 hours before arrival.
Please note that there is limited room availability - so please make your reservation as soon as possible.
For reservations at the Park Hyatt Mendoza Hotel:To make your room reservation at the Park Hyatt Hotel, each delegate must request reservations directly using the group code G-ICMI and contacting Reservations Department via telephone (+54 261 4411209) or via e-mail.
To obtain the discount for the room with breakfast included, you must include the G-ICMI code. You will have to provide a credit card to guarantee your reservation.
We strongly encourage you to book your room using the above link as soon as possible and no later than July 15, 2019.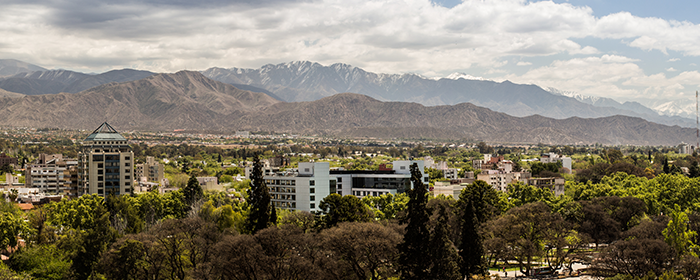 Venue
Mendoza is one of the great wine capitals of the world and a great place to enjoy wine, food, and wild nature. Located at the foot of the highest mountains in the Andes, Mendoza is the gateway to the Pacific Ocean. The climate is pleasant, temperate with little rain and very few days of wind, thanks to the protection from the surrounding mountain range.
The city has a dynamic artistic and cultural activity: with theatres, museums, art galleries and samples of handicrafts on offer. Open and always alive, the pubs, places to relax and dance, theatres, cinemas and casinos remain open until late at night.
The city is the ideal starting point for excursions to the province's important tourist attractions, such as the wine trails, mountains, rivers, hot springs and nature reserves.
Named in 1987 as International Wine Capital by the International Organisation of Vine and Wine (OIV) and also designated the eight World Wine Capital, Mendoza is part of a global wine-producing network along with other famous wine cities such as Bordeaux or Florence. The flagship grape variety of Mendoza is, of course, "Malbec".
For more information about the city and the activities on offer, please visit: https://ciudaddemendoza.gov.ar/