Display Options
Ingram offers several distinct display options for our distribution brands:
IPS
PGW
Two Rivers
Ingram Academic
Panel Display
Full Dedicated Space
Consortium
Full or Half Dedicated Space
Payment Schedule
Regardless of display type, publishers have the option to split their show charges into 2 payments or to receive them in 1 lump sum after the show. You will need to select your option when registering.
50% of space fees in March 2018, with remainder of space and added items in July 2018
OR
100% of space fees and added items in July 2018
All payments are in the form of a chargeback to the publisher.
---
Panel Display:
The Panel Display may be selected in Single, Double, Triple panels or even more sections. Each panel is 1-meter-wide (39 inches) and may be configured with up to 4 shelves above the 18" cabinet. To give perspective, three panels is a regular 10' booth space and two panels is slightly larger than half of a regular booth space. Reserve 2 or more panels and you will have dedicated table space with 3 chairs and may add-on fixtures such as a front counter if desired or request an adjustment to the height of your cabinet (standard is 18" tall). If you reserve a Single panel, you will have dedicated storage in an 18" tall cabinet, publisher logo branding and will share table space with your neighbor. Due to the width of the available space, single panels are not eligible for added fixtures. Publishers who select 7 or more panels may elect to have cross-aisle displays. Limited corners are also available for an additional fee of $675 each.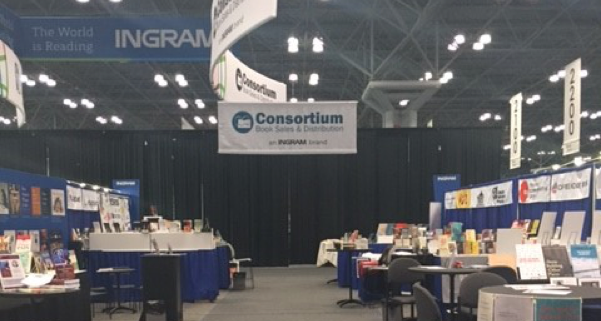 Pricing:
First panel US $2,920; Each additional panel US $2,635
Limited corner availability US $675
| | | |
| --- | --- | --- |
| 1 panel | 2 panels | 3 panels |
| | | |
| US $2,920 | US $5,555 | US $8,190 |
Panel displays are turn-key services, which include:
Exhibit space charges
Booth fixture components including small storage compartment, shelves, and lighting
Publisher identification logo sign
Show services including installation and dismantle labor, electricity, material handling for up to 100 pounds* of materials (books, brochures or other promotional items). Trash receptacles provided.
One-way shipping* from LaVergne, TN to New York, NY and shipment coordination
2 exhibitor/author badges per panel
Items not included in pricing:
Graphics are not included but may be attached to each panel or event printed on the panel background
Staff and author travel and hotel room charges. Hotel reservations may be secured through the Ingram hotel RSVP link.
Specific booth or display supplies such as book easels, risers or posters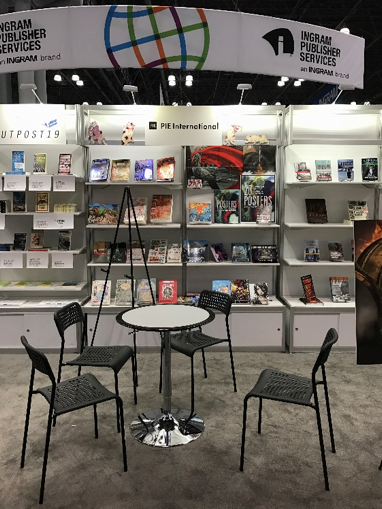 *Additional weight will be charged at prevailing material handling rates for the show in hundred-weight increments. 100 pounds per panel. Discounted shipping fees will be added for weight over 100 pounds per panel.
---
Dedicated Floor Space:
Dedicated Floor Space is for publishers who have their own display or prefer to display utilizing different fixtures. Dedicated Floor Spaces are carpeted, have unified pipe and drape back wall unless a custom booth with a solid back wall is used, but are otherwise empty space. Additional services will be charged as needed, including material handling, labor, electricity, furniture, etc. Available in full booth sections (10'x10') and half booth sections (5'x10'). Multiple adjacent spaces may be reserved in any combination for full spaces. Limited corners are also available for an additional fee of $675 each.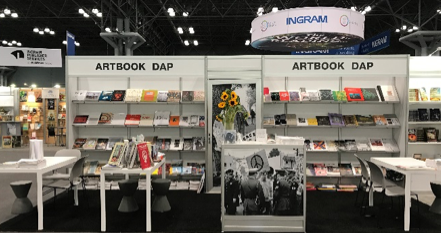 Pricing:
First Full space US $4,975 / Half space US $2,675
Each additional space US $4,725
Limited corner availability US $675
Space fees include:
6 Show badges for staff and authors for each booth space. (3 badges for each half space)
Show listing with specific booth number
Basic décor package including padded carpet, uniform back wall drape, publisher identification sign
Book order coordination
Items that may be added for additional fees:
Furniture and furnishings
Electricity
Material Handling is charged based on weight and method/location of shipment at prevailing show rates. Shipments via Ingram truck are not charged a minimum CWT and receive the discounted Ingram transportation rates.
Accessible Show Site Storage
Any other items you need for your display. We will work with you on any special requests.
Advertising or Sponsorships
Additional Badges
Items not included in pricing:
Staff and author travel and hotel room charges. Hotel reservations may be secured through the Ingram hotel RSVP link.
Specific booth or display supplies such as book easels, risers or posters