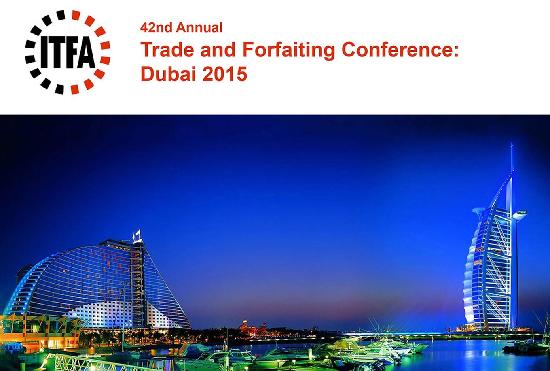 We are delighted
to invite y
ou to attend the
42nd International Trade and Forfaiting Conference 
that will be held this year at the
Jumeirah Beach Hotel
,
Dubai
from
Monday 28th September to Wednesday 30th September, 2015
.
Due to flight schedules from Europe, we have included 3 nights accommodation in this years registration fee, beginning on Sunday night.   The Conference will open on Monday morning and conclude with lunch on Wednesday.


Please be sure to register for the Conference as soon as possible and

click on the 'Registration Details' button (on the red line at the top of this page) to see the range of discounts offered this year.  
Attending the annual conference is essential to doing business in the forfaiting market and a good chance for all the market to exchange views with each other.  We do hope that you will participate and we look forward to having the chance to welcome you to Dubai.


To view this year
's programm
e
, click on the 'Conference Programme' button in the red line at the top of this page.

By popular request, the ITFA are again organising an Educational Seminar which will be held on Sunday 27th September.   The Seminar will be a full day.  See the full programme under "Seminar Programme" at the top of this page.    
Please note that your registration will only be accepted when the registration fee has been received by our conference organisers, International Conference Solutions (Europe) Ltd.