Who's attended in the past?
Our event are highly regarded and highly successful because we carefully select our attendees. Attendance is reserved for HR Practitioners and our sponsors and supporters. Providers, please contact Adam Bleifeld (adam.bleifeld@sharedxpertise.com) to learn about our sponsorship opportunities. Contact Anne-Sophie Ribault (anne-sophie.ribault@sharedxpertise.com) if you have any questions about your eligibility to attend our conferences.
In generating the HRO Summit experience we bring together the most influential and far-thinking executives and organizations for them to collaborate with one another.  Senior HR executives charged with making decisions about how to improve the HR function and/or to outsource specific processes regularly attend.  Typical titles include
| | |
| --- | --- |
| Title | Responsibility |
| Senior VP or Vice President | Human Resources/Human Capital Management |
| Senior Director or Director | HR Operations, Recruitment, Talent Management, Learning, Payroll, or other specific HR process |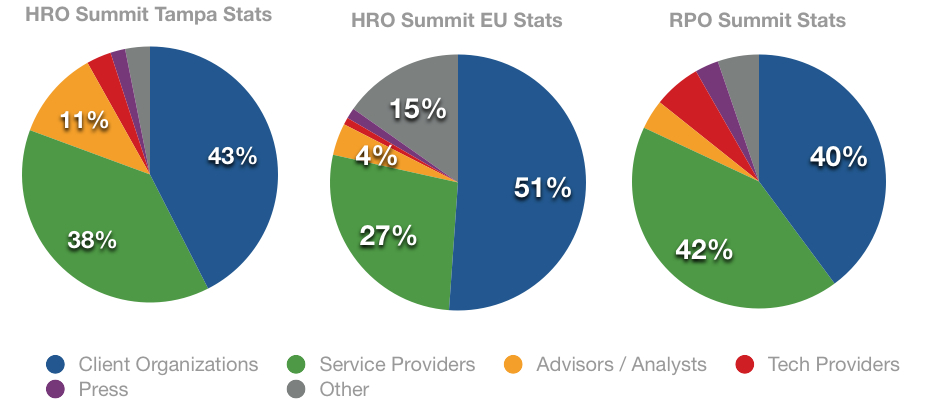 The HRO Summit is highly regarded by our attendees, because unlike most events, we carefully select our delegates to ensure the best learning and connection environment possible.  Only HR Practitioners or HRO Buyers may attend this event as delegates.

To sponsor contact Adam Bleifeld: Adam.Bleifeld@SharedXpertise.com +1 202-905-0351 x19.  For details on HROA membership contact Vince Albergato: Vince.Albergato@SharedXpertise.com+1.484.231.1816.

A minimum registration fee of $5,000 applies to all providers, advisors, and executive search firms on a conditional basis. Interested parties should contact Adam Bleifeld Adam.Bleifeld@SharedXpertise.com +1 202-905-0351 x19 for details of the registration package and process. Any registrations by providers, advisors or executive search firms on the general buyer/practitioner registration site will not be accepted.