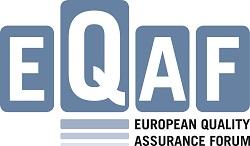 13th European Quality Assurance Forum
Broadening the scope of QA
Hosted by WU (Vienna University of Economics and Business) and AQ Austria, Vienna, Austria 
15-17 November 2018
As a tool for supporting the quality of higher education, quality assurance (QA) has in many European higher education systems focused largely on learning and teaching. However, as underlined in the introduction to the Standards and guidelines for quality assurance in the EHEA (ESG), higher education institutions should have QA policies and processes that cover other institutional activities, and in parallel, external QA is increasingly looking into these policies. This edition of EQAF will explore how institutions and QA agencies can build QA systems that encompass a broad range of activities, including learning and teaching, research, governance and administration, and service to society.
The 2018 EQAF, organised by ENQA, ESU, EUA and EURASHE, from 15 to 17 November 2018 in Vienna, Austria, hosted by WU (Vienna University of Economics and Business) and AQ Austria. Watch the
invitation video
from the hosts for a sneak preview!
Through a mix of plenary and parallel sessions, the 2018 EQAF, entitled '
Broadening the scope of QA
', will combine presentations of current developments in QA with discussions on research, policy and practice that will take place in paper sessions and workshops.
Each year EQAF provides a platform for discussion, professional development and exchange of experiences among the main stakeholders in QA. Specifically, the Forum will be of interest to rectors and vice-rectors responsible for QA, QA officers in higher education institutions, students, QA agency staff and researchers working on higher education or the QA field.
For updates follow
@EQAF
on Twitter.
Hosted by


Co-organisers
Photo ©2014 BOANET.AT