Technologies
Discover, Connect & Collaborate at TECHINNOVATION 2021
Smart Emergency Alarm - For personal security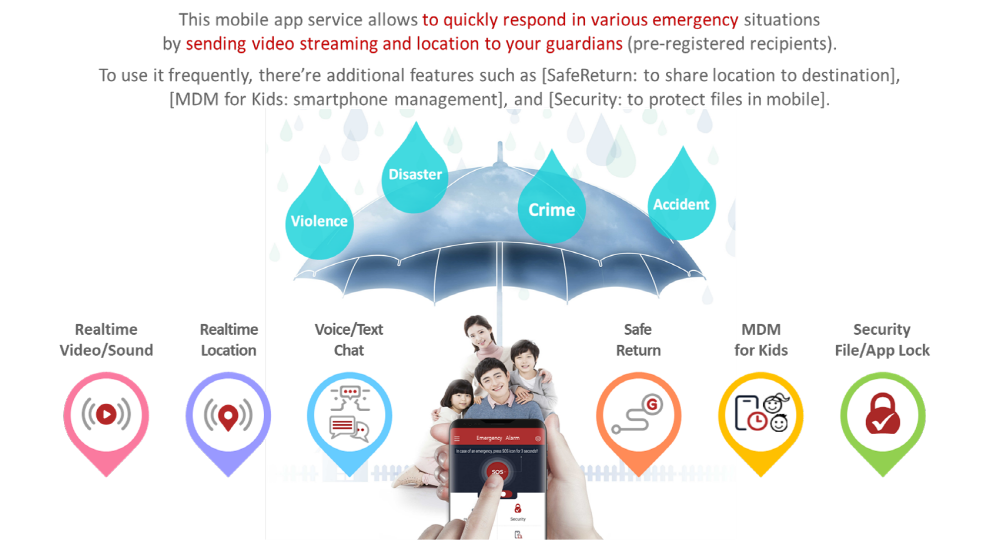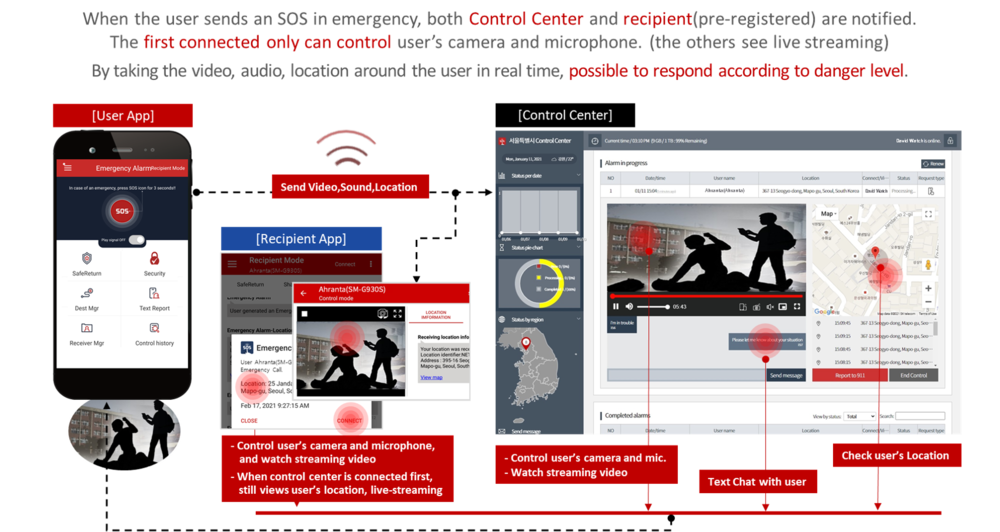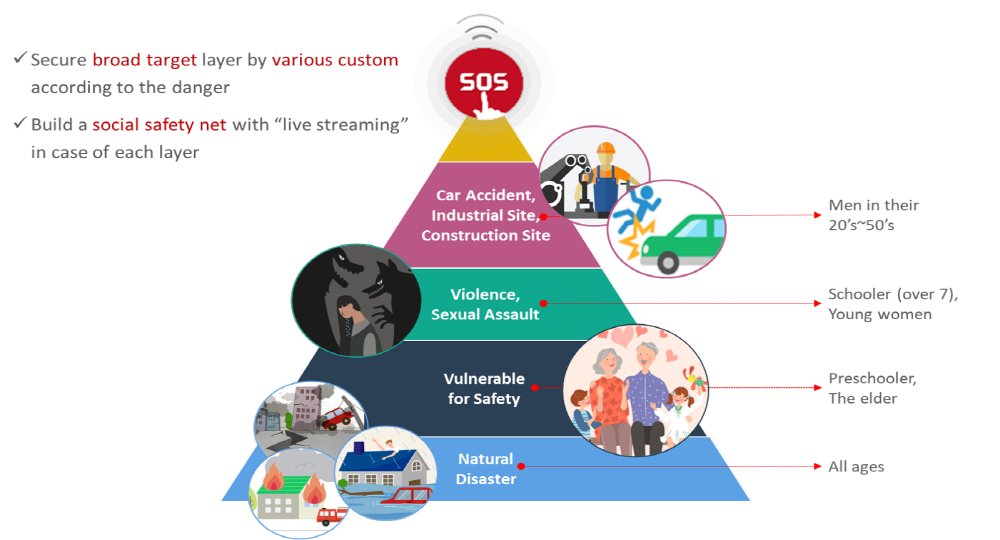 Technology Overview
Smart Emergency Alarm is a solution for personal safety for everyone.
You can send SOS with a simple action by your smartphone to your family and city guards. The app transmits real-time video/audio/location information to the pre-registered recipients. Then you'll be saved by a quick response securing golden time from crime, violence, accidents, disasters.
It consists of mobile apps (Android/iOS) and the web control center (SaaS/On-premise, every browser).
This solution can be used for local government for crime prevention and smart city project, or hospitals, hotels, insurance companies, industrial sites. Everywhere the emergency happens often, and need to quickly respond to save wound people.
Patents are registered in Korea, USA, Japan, China. Patent application is pending for Vietnam.
Technology Features, Specifications and Advantages
1. Personal safety app for my family!
Be a safety guard for your family members, who are vulnerable to safety and easily in danger, such as teenagers/ working moms/ the demented.
This is a life-saving system that secures the golden time even in the CCTV blind spot!!
2. SOS - Emergency Call
In case of disasters/crimes/accidents, you can quickly call your family member connected in advance.
After receiving the call, your Recipient views real-time video and location info, then can respond fast and properly by understanding your situation.
With internet connection, your family can protect you anytime, anywhere.
3. Instant Call on Lock Screen
Floating SOS Widget – it always appears on screen of smart device, even on lock screen, and can be positioned randomly.
If you activate shaking (5 times) and screaming, the app also detects the signal on lock screen.
4. SafeReturn
When you set the desired destination and start 'SafeReturn', your Recipient can check your itinerary.
Recipient will view your location info delivered every 30 secs, expected arrival, and if you're on correct way.
Please keep the loved one's way home safe !!
5. Security
To secure your mobile, there are 'App lock' to freely lock the downloaded apps, and 'File lock' to encrypt the important files in the mobile.
It reduces the worry of exposure to harmful info when your child uses a smart device.
'File lock' can prevent hacking and ransomware.
Potential Applications
We are looking for active business partners that can help us to enter Singaporean market, support technically in local place.
Business Partners: Cooperation in development or technology transfer
Reseller / Distributor: Sales of the products directly to customers in local market. (ie) SI companies, IT Sales agents especially for mobile apps, etc.
Clients Company: Financial institutions, Companies who has customers local governments, Telecom carriers, etc.
Customer Benefit
We all need the mobile safety service for not only kids but also whole family

The adolescent, the elderly, Patients with chronic disease
Safety check and location sharing with close friends

Offering the safety app service without dedicated IoT devices
Consistent with social values pursuing public safety

Maximize safe city experience to citizen
[Crime prevention] Provide psychological protection to the vulnerable women to crime, impose pressure on criminals

B2B service

For carriers, increase their brand credibility and network stability by offering personal "Safety" service on 5G by providing SOS app to their own customers.

B2G service

Integrated in CCTV control center of local governments
Integrated in rescue center like the police or fire station