New World. New Challenges. New Solutions.
PMI's third installment of the award-winning Virtual Experience Series.
Choose Your Own Adventure!
Join us on demand through 31 January 2022 for the October program and earn 27.5 PDUs. You will benefit from endless opportunities to broaden your perspective on project management.
Learn, Explore and Celebrate
Choose sessions from four learning tracks focusing on Power Skills, New Ways of Working, Business Acumen, and today's Hot Topics!
Hear big ideas and powerful messages from Mainstage speakers who are bringing the global community together.
Visit the CareerHUB to gain professional tools that take your career to the next level, and search to apply for job openings.
Explore the Exhibit Hall to learn more about products and solutions from our event sponsors and PMI affiliates.
Celebrate the 2021 PMI Professional Awards with the winners and finalists, and explore this unique, immersive experience!
Earn 27.5 PDUs with Breakout and Mainstage sessions available with closed captioning in Arabic, Chinese (Simplified), English, French, German, Hindi, Italian, Japanese, Portuguese, Russian, and Spanish.

Access these five theaters for content:

Mainstage Theater for Featured Conversations
Breakout Theater for content in four dedicated tracks
Brand You Theater for career-boosting content
Working Wellness Theater for tips and tools on maintaining work-life balance
Bonus Theater for sponsored and PMI-affiliated content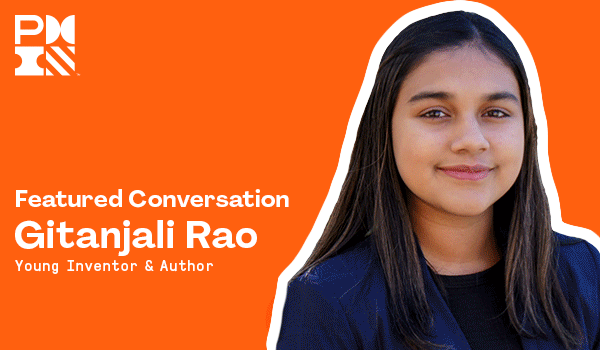 We are thrilled to welcome back presenter, producer and actor Nikki Muller as the host of our October event.
Join us as Stephanie Mehta, Editor-in-Chief of Fast Company, brings together inspirational panelists Fatima Ibrahim, Global Citizen's UK Hero of the Year, Gitanjali Rao, Young Inventor, Author and TIME Magazine's 2020 Kid of the Year, and Jordan Chanetsa, LGBTQIA+ Rights Activist, to discuss spearheading impactful global movements to make real change around the world.

Join award-winning chef, restaurateur and author, Marcus Samuelsson, and author and co-founder of Eat Offbeat, Manal Kahi, as they discuss social responsibility in the culinary arts and how they are making a global impact in their own ways.
Hear from author Peter Hinssen as he discusses his book, The Phoenix and The Unicorn: The Why, What and How of Corporate Innovation, and how organizations aren't afraid to reinvent and adapt to the new normal of digital disruption.

Registration is Open for On Demand
Price (US$)

Mainstage and Breakout Theaters*
Brand You and Working Wellness Theaters*
Exhibit Hall and Bonus Theater*

CareerHUB

PMI Professional Awards Premiere and Interactive Gallery

All Access Pass: PMI Members

Free

Yes
Yes
Yes
Yes
Yes
All Access Pass: Nonmembers
US$79
Yes
Yes
Yes
Yes
Yes
General Pass
Free
No
No
Yes
Yes
Yes

*On Demand through 31 January 2022.
All Access Pass holders can earn 27.5 PDUs and General Pass can earn up to 6 PDUs. All registrants will be directed to log in or create a PMI account to register.

PMI Student Members receive complimentary All Access Pass registration. Nonmember student pricing is available for purchase for US$10. Nonmember students are required to provide proof of student status. See FAQs for details.
Make the case to attend! Just think about how your organization could easily benefit from your learning. We've drafted a letter to help you get approval.
Already Registered? Join the event on demand until 31 January 2022.
PMI Professional Awards Premiere and Interactive Gallery Tour
Join us and our host Nikki Muller as we celebrate the best of the best in project management at the PMI Professional Awards interactive gallery tour!
Be a part of the Professional Awards premiere on 6 October to find out who will win PMI Project of the Year and PMO of the Year! Meet this year's honorees at the show and stop by the virtual award gallery for a closer look at the people and projects voted the best of the best in project management in 2021.