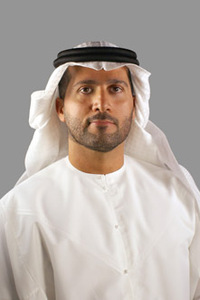 Title
Chief Executive Officer
Company
Emirates Nuclear Energy Corporation
Bio


Mohamed Al Hammadi is the Chief Executive Officer of the Emirates Nuclear Energy Corporation (ENEC). His responsibilities include directing those activities required to facilitate the deployment of nuclear energy plants in the UAE, incorporating the development of plans for a peaceful nuclear energy program, and the development of non-regulatory infrastructure. ENEC is also responsible for creating effective public information and stakeholder engagement programs. He brings to ENEC a strong background in municipal power and utility projects, including management, construction, finance and administration.

Mr. Al Hammadi joined the ENEC after having served as General Manager of the Federal Electricity and Water Authority (FEWA), where he led a wide-ranging restructuring of the organization that created a more customer-service oriented utility.

He also served in a senior position with Mubadala Development Company, where he was involved with project finance and business development projects involving independent water and power producers. He is a member of the Board of Directors of the Advanced Technology Investment Company, the corporation formed to make investments in the advanced technology sector, both locally and internationally, with a view to delivering long-term economic and social benefits to Abu Dhabi.

Earlier in his career, Mr. Al Hammadi served for more than five years as Project Division Manager for the Abu Dhabi Distribution Company (ADDC), where he was responsible for managing major power, water and civil projects. Prior to that, he was a Project Engineer with Abu Dhabi Water and Electricity Authority (ADWEA), where he played important roles in the completion of various power distribution projects that improved the delivery of electricity to wide areas of the Emirate of Abu Dhabi.

Mr Al Hammadi earned his BSc in Electrical Engineering and his MSc in Engineering Management from the Florida Institute of Technology.