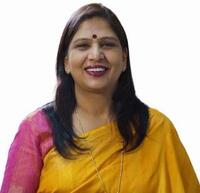 Dr Pankaj Mittal, AIU

Title
Secretary General
Company
The Association of Indian Universities (AIU)
Bio


Dr(Mrs) Pankaj Mittal, Additional Secretary, UGC has been appointed as Secretary General of the Association of Indian Universities (AIU) for a period of five years. She has taken over the charge on 26.06.2019. She is the second women Secretary General of the Association in its 94 years of existence. She is serving the higher education sector specially university education for over 03 decades at various institutions, including University Grants Commission.

The Association of Indian Universities (AIU) established in 23rd March, 1925 is an apex interUniversity organisation serving the cause of higher education for more than nine decades. It serve as an Inter-University Organisation; act as a bureau of information and to facilitate communication; Coordination and mutual consultation amongst universities; act as a liaison
between the universities and the Government (Central as well as the State Governments) and to co-operate with other universities or bodies (national or international) in matters of common interest; act as the representative of universities of India; to help universities to maintain their autonomous character. AIU organises inter-university sports activities, youth
affairs activities and research anveshation as student centric activities. Its membership include all types of universities viz. Central Universities, State Universities, Institutions declared deemed to be Universities u/s 3 of UGC Act, 1956, State Private Universities, Institute of National Importance, IITs, IIITs, Agricultural Universities, Health Sciences Universities. At present its membership is 742 including 15 Associate members from neighbouring countries viz. Nepal, Bhutan, Bangladesh, Kazakhstan, Thailand, Mauritius, Malaysia, UK, UAE,

Dr. (Mrs) Pankaj Mittal is a Fulbright Scholar and has been a topper in MSc and PhD in Agricultural Statistics from IARI, New Delhi. She has a wide ranging experience of over three decades in Higher Education in Policy Planning and Management of Higher Education including Promotion of Access, Equity, Relevance, Quality and Human Resource Management.

Dr Mittal served as the first regular Vice Chancellor of Bhagat Phool Singh Mahila Vishwavidyalaya, Khanpur, the first rural women university of North India, in 2008, atthe young age of 44 years. She introduced a series of innovative practices and
reforms as the Vice Chancellor the women state university imparting education to 7000 girls from KG to PhD level in a holistic manner.