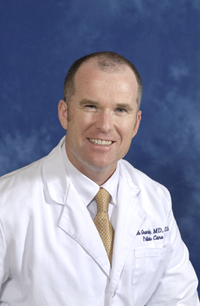 Title
Division Chief of Palliative Medicine
Company
Department of Family Medicine at the University of Vermont
Bio
Bob Gramling, M.D., D.Sc. is the Holly & Bob Miller Chair in Palliative Medicine and Division Chief of Palliative Medicine in the Department of Family Medicine at the University of Vermont.

Bob's research focuses on prognosis & decision-making conversations in palliative care settings, with particular attention to concepts of suffering, compassion, and uncertainty. He has authored more than 80 publications and received research funding from the National Institutes of Health, the National Palliative Care Research Center, the Greenwall Bioethics Foundation and the American Cancer Society. He is currently Principal Investigator of the Palliative Care Communication Research Initiative, a multi-site longitudinal study funded by the American Cancer Society to understand the features of palliative care consultations that promote outcomes of importance to patients and families.

Bob received his undergraduate degree from Colby College (1992), his Doctor of Medicine from Dartmouth Medical School (1997), and his Doctor of Science (Epidemiology) from Boston University School of Public Health (2008). He completed his residency training at Maine-Dartmouth Family Practice and Fellowship at Boston University. He and his wife, Lindy, enjoy the outdoors, dancing and being proud parents of two pretty awesome teen/20-somethings.