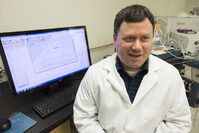 Title
Associate Professor of Biochemistry and Molecular Biology
Company
University of Arkansas for Medical Sciences
Bio
Dr. Mackintosh is responsible for day-to-day operation of the proteomics core laboratory at UAMS. The core lab maintains several state-of-the-art, high-resolution, Orbitrap mass spectrometers capable of identifying, characterizing, and quantifying proteins in a high-throughput manner, as well as a full suite of computer hardware and software needed to analyze proteomics data. The core works with investigators in designing experiments, acquiring and analyzing data, and preparing manuscripts and grant applications.