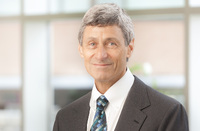 Title
Francis and Edgar Reynolds Professor and Chair
Company
Department of Neurological Sciences
Bio
Dr. Matthew Rizzo is the Francis and Edgar Reynolds Professor and Chair of the Department of Neurological Sciences, Chief Physician for Neurological Services, Director of the Mind and Brain Health Initiative, and Director of the Great Plains IDeA Center for Clinical and Translational Research. He has led many successful multidisciplinary NIH and industry research projects addressing behavioral sequelae of neurological disorders, advised the U.S. Army on its translational neurosciences research program, and multiple organizations (e.g., AMA, AARP, AAN, AAMVA, NAS) and governments on evidence-based strategies for evaluating and supporting vulnerable human operators. Relevant service includes the U.S. National Academy/Board on Human-Systems Integration (including issues related to home health care, human machine interactions, engineering education), U.S. FDA Panel for PNS and CNS Drugs, and a US-DOT Medical Advisory Committee (appointed by the U.S. Secretary of Transportation). Dr. Rizzo was the first to integrate high fidelity simulators into clinical settings and has developed some of the most advanced instrumented vehicles in experimental and naturalistic settings to study "behavior in the wild." He is the author or co-author of more than 300 scientific articles and reports, and multiple books. Dr. Rizzo earned his undergraduate degree from Columbia University and his MD degree from the Johns Hopkins University.