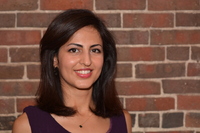 Senior Data Scientist
McGraw Hill Education
Dr. Shirin Mojarad is currently a Senior Data Scientist at McGraw-Hill Education. She was formerly a senior analytics specialist in the Advanced Analytics team at Canadian Imperial Bank of Commerce (CIBC) and a data mining consultant with a leading software company in predictive analytics. She is an expert in navigating and deriving insight from large datasets using data mining techniques. She has wide experience in framing and conducting complex analyses and experiments using large datasets to find trends in diverse data sources and analyze behavioral patterns using advanced statistical modeling and data mining techniques. Shirin received her Ph.D. in Electrical Engineering and her M.Sc. in Communications and Signal Processing from Newcastle University U.K., where she specialized in predictive modeling and artificial neural networks.