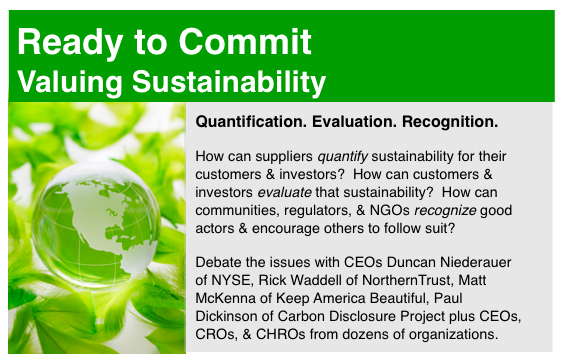 ...only 1% of the world's water is drinkable.  Demand is skyrocketing.  How will it impact you?  MolsonCoors & the Water Disclosure Project figured out how and will share their plans with you.
...30% of companies see an ROI from sustainability programs?  Can yours?  The Gap has figured out how and along with Harvard Business School will share their strategy and tactics.
...41% of sustainability execs report directly to the CEO.  Should it be higher or lower?  The CROA is advancing the practice of responsibility and sustainability.  Access their tools and templates.
...the 100 Best Corporate Citizens keep getting more transparent & accountable?  The 2011 methodology ranking these companies will improve to focus on outcomes.  Get the latest.
These issues are transforming the world and business.  At the Fall CRO Summit a capacity crowd of 250 VP & director-level delegates from major corporations will debate these issues and impacts in depth along with CEOs & C-Suite execs from global companies, including on stage:
CEO NYSE Euronext Duncan Niederauer

CEO NorthernTrust Rick Waddell

SVP HR & Admin at Boeing Rick Stephen

CEO Keep America Beautiful Matt McKenna

CEO Carbon Disclosure Project Paul Dickinson

CEO Hara Amit Chatterjee
These distinguished executives will be joined by the media along with thought leaders in sustainability, governance, corporate social responsibility, and socially responsible investing. 
The CRO Summit Experience
Why is it called the CRO Summit?  Because at the Summit we generate an interactive and collaborative meeting of the minds.  Everything from how the Summit is planned, to the sessions selected for the program, to the onsite experience centers around creating an environment where corporate responsibility leaders can come together to share insights, learn from one another, and work on the tough challenges facing them as individuals, as companies, and as an industry.
About CRO Summit

This event will be held Novmber 3-4 at the historical Union League Club of Chicago in the heart of downtown's financial district.  CROA Members get free passes to the CRO Summits in the U.S., subscriptions to Corporate Responsibility Magazine, special access to CROA research programs, benefits from CROA's global partner organizations, and participation in committees and all other Association programs.
Our director and VP-level delegates know what its like to envision, plan, and operate enterprise corporate responsibility programs.  They will be joined by the executives from our sponsors companies, the leading providers, advisors, and consultants offering corporate responsibility products and services.  We regret that we cannot accommodate those lacking the necessary decision-making authority.  Credentials will be verified. 
Event presented in association with