Awards Programs
IDG Communications, Inc. is honored to recognize technology, business and security leaders and their organizations for their innovation and accomplishments through a variety of award programs. For information on making an award nomination, please visit the specific awards program below.
CIO 100 Awards
This award identifies and honors 100 organizations that have distinguished themselves by creating business value through the effective and innovative use of IT. These projects and the individuals responsible for them are publicly recognized at the annual CIO 100 Symposium & Awards Ceremony.

CIO Hall of Fame Awards
CIO honors men and women whose work has profoundly shaped the technology-enabled business landscape, demonstrating both creative vision and practical leadership in information technology with this award. These individuals are publicly recognized at the annual CIO 100 Symposium & Awards Ceremony.

CSO50 Awards
CSO recognizes 50 organizations for security projects and initiatives that demonstrate outstanding business value in today's transforming digital landscape. Honorees share case studies and are celebrated at the CSO50 Conference + Awards.

CSO Hall of Fame Awards
The CSO Hall of Fame is a personal leadership award that celebrates outstanding achievement in the security field. This recognition is bestowed upon those whose work has advanced the CSO/CISO role, secured business, and inspired others in the industry. Hall of Fame inductees have demonstrated significant business impact and vision within the security space, helping to develop a strong security posture within their respective organizations. Inductees are celebrated at the CSO50 Conference + Awards.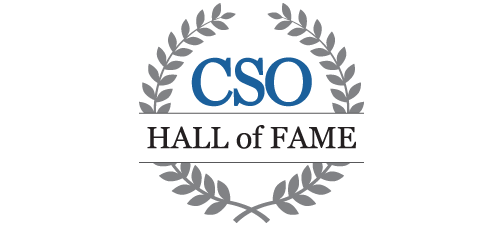 FutureEdge 50 Awards
The FutureEdge 50 awards recognize organizations pushing the edge with new technologies to advance their business for the future. The successor to the Digital Edge 50 awards, the FutureEdge 50 will recognize not only established initiatives driving business success but also early-stage projects pursued for their watershed potential. These initiatives may be in R&D, proof of concept or pilot phases. With this, the FutureEdge 50 awards aim to bring the most cutting-edge trials and applications of emerging technologies – and the innovative cultures enabling them – to our audience at the annual AGENDA conference.

The Ones to Watch Awards
The Ones to Watch awards spotlight rising technology leaders who have what it takes to become strategic, C-level business technology executives of tomorrow. These individuals will be recognized at the annual AGENDA conference.