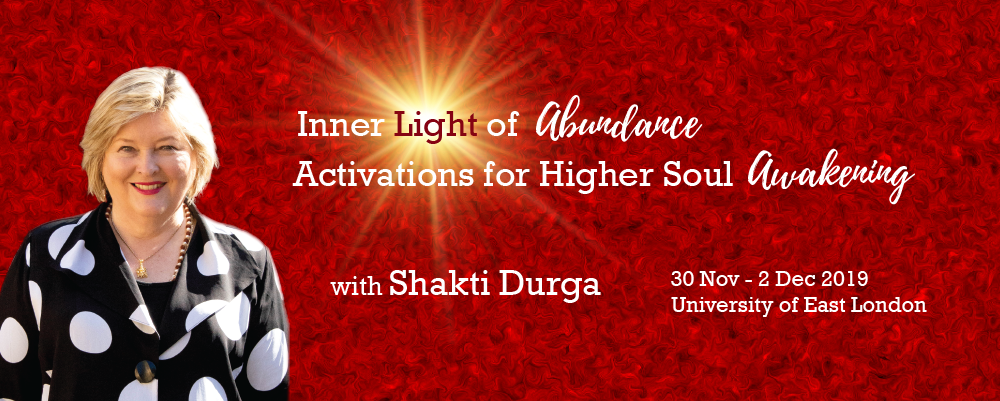 Inner Light of Abundance 2 day Seminar
Saturday 30 November - Sunday 1 December 2019
And
Activations for Higher Soul Awakening 1 day Seminar
Monday 2 December 2019
with Shakti Durga

Inner Light of Abundance 2 day seminar

Sat 30 November 10.00am - 5.30pm
Sun 1 December 10.00am - 4.30pm
Spiritual illumination and material abundance are one: The soul's path of self-discovery can include blazing joy and radiantly fulfilling success in the physical world.
Is this your understanding of reality? If so, do your experiences match this truth? Or does the desire to live a spiritual life sometimes seem at odds with being comfortable, well provided for and successful in the practical day to day world?
Maybe you have heard a lot about mindset and 'The Secret' and yet the balance between your inner world and your experience of abundance in general doesn't quite match up: Perhaps you have wondered how to be your most brilliant spiritual self and still be abundant: You might also have invested a lot of thought, will power and discipline into creating more abundance without the results you were expecting.
On the 'Inner Light of Abundance' weekend we are going to use a mixture of meditative practices and practical tools to transform and light up our physical and our spiritual world.
We will learn about exciting breakthroughs in astrophysics as well as new quantum science that confirm what Ancient Wisdom has always known and taught: that we are vibrational beings living in  sea of consciousness, and that our consciousness and energy can and do affect the reality we live in.
We will then do experiential work to implement this wisdom in our lives. Mindset alone cannot make the shift we desire. Our energy field, heart, will and soul need to all be aligned, engaged and illuminated! We will re-vamp and lift our relationship with ourselves and our purpose, as well as with money and all other forms of abundance.
Come along, activate your inner light and enable your potential for a higher vibration of life experience, and a truly abundant world! 
Activations for Higher Soul Awakening 1 day seminar
Mon 2 December 10.00am - 5.00pm
We might think that the game of self-realisation is just about our spiritual life. But no! The game of self-realisation is life. It affects what happens in every aspect of life - wealth, relationships, prospects and opportunities. Ultimately, it is to do with the illumination of our inner most being, and becoming a light in the world. But our whole life is the learning ground, and our challenges are the rungs on the ladder of consciousness that will take us to that illumination.
How can we come into ease, grace, insight and wholeness in this process of self-development? How can we use our own energy, thoughts, emotions, will and actions to smooth the way for ourselves, and to work with the universe rather than letting it work on us as we find our true Self? The combination of learning and spiritual activations can smooth the journey incalculably - making it one of radiant self-knowledge, joy and service: the expression of who your soul was born to be!
As we come through this game of self-realisation, our true selves birth like butterflies from a chrysalis, and our capacity to make a difference in the world around us is activated and enhanced. To that end, aside from receiving teachings and activations for our own illumination, we will also do some transpersonal clearing to help serve the greater family of humanity and all sentient beings. This type of service is a fulfilling and transformational spiritual pathway in itself!
Our Day of Activations can be attended as an addition to the Inner Light of Abundance Seminar over the preceding two days or as a stand-alone program for spiritua development. It will consist of three parts:
Activations for higher soul union and illumination

Mystical teachings for the understanding of your own consciousness and of the 'game' of self-realisation that plays out in every minute of every day

Transpersonal world-service meditation practices
Imagine you feel more alive, in tune with who you really are, awake to the yearnings of your soul and full of love for yourself and the world around you - and imagine that in the process of igniting this light that is you, you are also serving others!
The spiritual life is a quest - but one that leads to a life of more love, fulfilment, joy and genuine satisfaction. Come along, meet delightful people, learn more about the soul and reveal more of your true radiant self!
Venue

The venue for both seminars is the University of East London, Stratford Campus, Water Ln, London E15 4LZ. Room CC. G05.  As the campus is quite large please arrive at least 15 minutes early to give yourself plenty of time to find the room and the opportunity to be settled ready to start 10 minutes before the start time. 

Both of these seminars are offered by heartfelt contribution, with a non-refundable deposit to secure your place and cover administrative costs and venue hire. Heartfelt contribution is our way of ensuring that everyone who would benefit from these grace-filled events are able to attend. It is also an opportunity to engage in the law of flow, in which we are able to honor the programs not in accordance with a pre-set fee, but in alignment with the value we feel we receive from them, and the truth of our own means.
The non refundable deposits to secure your place on the above seminars are as follows:



 

Activations for Higher Soul Awakening

 




 

 

The Light of Abundance 2 day Seminar

Activations for Higher Soul Awakening 1 day Seminar

 
Please note these prices do not cover tuition, which is offered by heartfelt contribution. You will have the opportunity to make a contribution for tuition either online when you book, on the day, or online following the seminar.
More Information

How to Get There
It is recommended that you use public transport. Stratford Station is overground and underground and well connected.  There will be some paid parking at London rates, we suggest you check parking options out if you are wishing to drive.
Lunch is not included so you will need to bring your own vegetarian lunch.  It is possible to buy something from the station on your way. Other than that the closest place is a Morrison's grocery store which apparently has some delicious things! There will be tea making facilities with biscuits supplied.