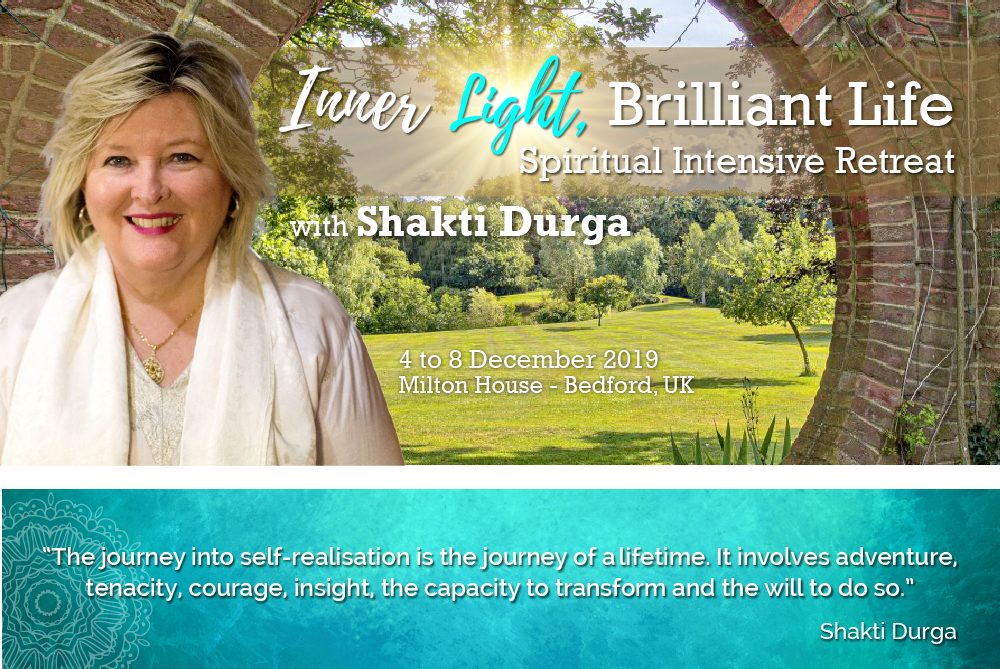 Seek and find the One: the part of self that is in common with all living beings. Then, bring that wellspring of wisdom and grace into all parts of your life!
Shakti Durga has found that within herself, and her deepest yearning is to help you find it too.  When the flame is lit pass it on! Join Shakti Durga and Gayatri Kamadhenu on a unique journey of self discovery, and learn how you can cultivate a brilliant, satisfying life.
Finding your inner spiritual fire brings the most exquisite satisfaction, and can change our entire approach to relationships, abundance, how we see ourselves and our own distinctive life quest.
Inside every one of us is a luminous spiritual field of self discovery. Mystics of all ages have connected with that, and now in our modern times we have the capacity to do so too.  This inner light is filled with such peace, reassurance, joy and bliss. Every time we touch it our sense of calmness and empowerment seems to grow, and daily connection with this brings deeper fulfilment to our lives.
When we are connected to the inner light, we can find peace and mental rest even in a sea of commitments and obligations. Life in the 21st century is complex, but despite its challenges, it's the best time that history has ever provided to make the big journey of self discovery, becoming more spirited, authentic, connected and in love.
When we connect with the deep inner light of bliss, it starts to ooze out all around and through us. It pervades our thinking and the energy with which we interact with other people. It is an attractive energy, bringing to us better opportunities and helping us to bring out the best in ourselves and others. Thus, it helps us to live more loving, connected and harmonious lives.
You will learn and practice a mantra that connects you to this light.           


Shakti Durga will empower that mantra for you - adding priceless 'Shakti' or spiritual empowerment to the process

Experience an ajna chakra activation, to find the internal seat of the incredible spiritual master you are birthing into - your own higher soul

Meditate deeply with the turbo charged assistance of Shakti Durga and Gayatri, experience being lifted into bliss

Shakti Durga and Gayatri will bring the beautiful sounds of nada shakti, spiritual music filled with

the power of the Divine that flows through speech and song


Find a wellspring of energy that is highly attractive and magnetic to good things

Meet amazing people who are on a journey into the light, while having their feet firmly on the ground, helping to create heaven on Earth

Stimulate your emotional capacity and spiritual capacity (EQ and SQ)

Connect with the sacred energy of the land, experience the radiant lift of your own connection to the planet, the stars and all of life

You will learn some tools to stay grounded, present and connected wherever you are and whatever work, personal, creative or spiritual environment you are in
 

Shakti Durga is a warm hearted, big spirited soul teacher and sacred musician, who exudes the blazing golden light that only years of spiritual practice brings.

 

Connection with this energy activates hidden codes within our being to help us to blaze with that same kind of strength, spirit, humour, warmth and love. For the big journey, the journey of spirit and soul, it is a profound gift to have a coach, a 'tour guide', as you climb the spiritual mountain and find more blazing self, more potential, opportunity and magic than you could imagine.

 
 

Gayatri Kamadhenu is a vibrant and joyful being with a passion for merging spirituality and psychology to cultivate well-being of the heart, mind and soul. As a coach, therapist and facilitator with an MSc in positive psychology and coaching psychology and 20 years spiritual training behind her, Gayatri empowers her clients and students to live the most authentic, meaningful, successful and joyful life possible.


 

A sacred musician with a beautiful 'divine' voice, Gayatri brings the power of sound to everything she teaches and has released a pop album (Ignite) themed around finding authenticity and unconditional love in life.  Gayatri is currently completing her PhD on the psychology of unconditional love at Leeds Beckett university.

Milton House is located in a small village called Milton Earnest just outside of Bedford, Bedfordshire, England. This stunning house is set amongst beautiful private grounds, wonderfully secluded and within easy reach of Bedford town centre. Explore the grounds, wander through the magnificent gardens, relax by the open fire or jump in the heated indoor pool or hot tub (don't forget your swimmers and a towel!). There is also a tennis court and a lake on the grounds which attracts all kinds of wildlife.

Rooms include a large drawing room with doors opening onto the patio overlooking impressive views of the gardens and grounds.  The conservatory also has doors out onto the patio and from there a fantastic heated indoor pool and hot tub.  The open fires will add a wonderful ambiance to our gatherings as we connect with our inner light and each other in this relaxed and peaceful setting.

How to get to Milton House

Bedford train station is on a direct line to London Bridge and Kings Cross St Pancras. There are also great links to the M1 and A1 and plenty of parking available. There are taxi's available from Bedford train station which is about a 15 minute drive from the station.
Accommodation and meals

Accommodation is made up of a variety of types of rooms which include single and double beds.  There are 5 bathrooms, some of which are shared ensuites and main bathroom, all of which will be shared by participants.  Kitchen will have a fully stocked pantry with ingredients for self-catering breakfast and a fully catered vegan and gluten free lunch and dinner will be provided. Vegan afternoon tea with cake or treat is also included in the price of the retreat.  (See What is Included below for full details.)

Bedford train station is on a direct line to London Bridge and Kings Cross St Pancras. There are also great links to the M1 and A1 and plenty of parking available.
The retreat will run from 6pm Wednesday 4 December to 4pm Sunday 8 December.
Your investment for this rich opportunity is AUD$1,279.00 (GBP £699)
Includes all accommodation and meals 
A non refundable deposit of AUD$400
(GBP

£220)

will secure your place. Final payment is due and payable by 15 November 2019.  For more information please read the

booking conditions.

        Price includes:
Tuition fee

Staff expenses

Accommodation

All bedding, linen and towels provided

Pantry supplies for self-catering breakfast


Catered Vegan/Gluten Free Lunch (Thursday to Sunday)

 Catered Vegan/Gluten Free Dinner (Wednesday to Saturday)

Afternoon tea and cake/treat (Thursday to Saturday)

Parking

 

Meals other than those stated

Transport to and from the venue

No meat, alcohol or recreational drugs are allowed during this retreat. 

If you have any special dietary requirements please ensure you answer the question on dietary needs on the registration form and give details so we can ensure you are fully looked after.
Testimonials From Inner Light Retreat May 2019

'This inner light retreat was profound and was with an amazing group of light filled beautiful people.'
Joanne, Newcastle, Australia  
'A residential retreat away with Shakti Durga is different to retreats at the Abode [Cooranbong Centre]. There is a conscious intention to create a container specifically for the development and support of participants. This is done in beautiful surrounds which evoke relaxation, self-care and enjoyment along with the experiential learning. It was a very fulfilling experience!'

MT, Cooranbong, Australia
'What has unfolded for me is nothing short of miraculous, I am overwhelmed with love just writing and contemplating the grace that has flowed during this retreat. I feel as if so much of my life and what I have learned now makes sense and I feel so very grateful for being a part of this beautiful group of caring and compassionate souls.  Shakti Durga's gentle and compassionate guidance has allowed me to accept myself, embrace my life and I pray that as I venture out into my life again that I am able to use all that I have learned to play my part in this ever unfolding plan of peace. The venue, food, services and accommodation were all fabulous. Endless gratitude and love!' JM, Cooranbong Australia