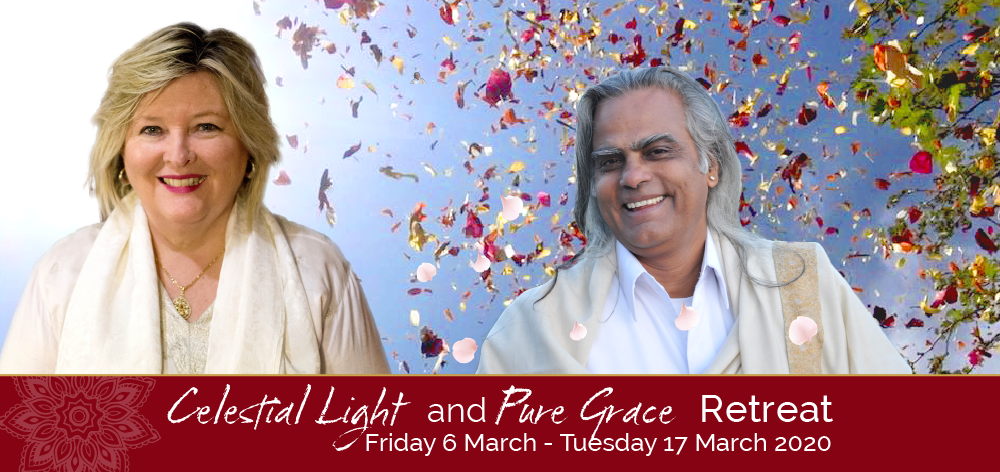 In March 2020 Shakti Durga will be taking a Shanti Mission group to visit His Holiness Swami Yogiraj Ammar Jyoti in the pristine Himalayan mountains. Swamiji is a disciple of the immortal saint, Babaji. We will be staying in His beautiful ashram to fully immerse in the peace, light and inner radiance. On 12 March, the day after the Festival of Holi (see below), Swamiji Yogiraj Ammar Jyoti will be taking us on a Yatra (pilgrimage to sacred sites with a spiritual Master) to visit special places in Himachal Pradesh. We do not know the itinerary for this part of the retreat but we know we will be saying overnight in twin share accommodation for 3 or 4 days. We will then return to the Ashram for the remainder of the retreat. Swamiji took us on a Yatra last year and it was truly an extraordinary experience!
This visit will coincide with the Hindu festival of Holi, which heralds the end of winter and the onset of spring in India. Holi means the triumph of good over evil and the conquest of spiritual values over sensual ones. This festival is big in North India, and very colourful. There will be a spectacular cultural and music program put on by the Ashram and discourses from Swamiji. It is a fun filled and joyful celebration.  Gayatri will be accompanying Shakti Durga on this retreat.
Each morning and afternoon there will be an optional fire puja at sunrise and sunset, except for days that we are travelling. 
Shakti Durga will be running programs each day arising from the Eternal Light (Ammar Jyoti) and the wisdom of the Himalayas themselves. There will also be visits to local temples. As always she is an amazing interpreter of nature, ancient spiritual wisdom and a great story teller, sharing the many myths and their inner significance for our lives. Her blazing spiritual energy is even more electric in India, and it is worth the trip to experience that alone.
The ashram has views of the mountains, comfortable twin share rooms with ensuites, and excellent vegetarian food. All meals are included in the cost of this retreat. The mattresses are quite firm so you might want to bring some foam underlay if you have any physical ailments that may be affected by this.

The ashram has a purpose built, light and airy dining hall in the same building as the accommodation.
We are going at the end of winter and the current forecast for this time is for 18-20 degrees celcius during the day with a low of 10 degrees celcius overnight.
There is no indoor heating but the rooms are well insulated.

There are heavy blankets in the rooms but if you have a warm sleeping bag that is easy to carry you might want to bring it. It is recommended that you bring clothes that are easy to 'layer', a warm jacket, thermals and boots or warm socks with comfortable footwear. For more details information on what to bring please click here What to Bring
This retreat commences Friday 6 March and concludes Tuesday 17 March 2020. 
The price for this retreat is AUD$2,608 per person twin share
(excluding international and domestic airfares which are at your own cost)
Please note: This is an advanced retreat. To ensure that this retreat is in your best interests we are asking all interested participants to make application to attend. Simply click on the 'Register Now' button, then click on the link provided and fill out the application form. Once your application has been approved you will receive an email giving details of how to finalise your registration and make your payment.

Payment of a deposit of AUD$800 will secure your place.  Any cancellation will attract an administration fee of AUD$300, late cancellations will also incur other costs/fees - please see
booking conditions
for further information.
Payment of the balance will be required no later than 21 February 2020.  Bookings after this date will require payment of the full cost on registration.
Please note: As all the accommodation is on the upper levels requiring the ability to walk up steep stairs, as well as the necessity to negotiate steep stairs at other times, a good level of fitness is required to attend this retreat. If you are unsure whether you are fit enough to attend please contact retreats@shaktidurga.org to discuss prior to making your booking.
Donation to Swamiji's projects of AUD$108

Tuition fee

Administraton Fee

Staff costs

Twin share accommodation and all meals

Trips to local temples

Airport transfers to and from Dharamsala airport as stated below
International and internal flight costs. You will be required to organise your own international and internal flights.**

Indian Visa  

Visa Information




Travel insurance (compulsory - please note you will be required to upload a copy of your insurance policy to your online registration form)

Meals (other than those stated)

Transfers outside the main tour group

Excess baggage costs
** Information Regarding Flights
The retreat will commence at Dharamsala. You will be picked up at 3.30pm on Friday 6 March at Dharamsala Airport (DHM) and transported to the Ashram. Airlines that fly to Dharamsala are Air India and Spice Jet.

The retreat will conclude at 10.30am on Tuesday 17 March at Dharamsala Airport.  Please arrange your flights to coincide with these times and dates. Please note:  for your information the details of the flights which most participants will be travelling on are listed here:
6 March AI 9713 Delhi to Dharamsala leaving Delhi at 1:30pm
17 March AI 9814 Dharamsala to Delhi leaving Dharamsala at 11:20am

Please note:
Domestic airlines in India have different requirements regarding the amount of baggage that can be taken on board without incurring excess baggage rates. To avoid unforeseen baggage costs, it is advised that you check the baggage conditions carefully when booking your internal flights.  If you book your internal flights on the same ticket as your international flight you may have the same baggage allowance for all flights, check with your travel agent. Air India have a luggage restriction of 15kgs.  If you want to bring more than that we suggest you contact a travel agent to book your international and domestic flights on Air India on the one ticket. In the past we have done this and got 30kgs on all flights, but you will need to get advice and book through a travel agent.

Delhi Accommodation: Lemon Tree Premier Delhi Airport and Pride Hotel Delhi Airport are hotels we have stayed at and found quite good, however you could book a hotel anywhere in the Aerocity Delhi Airport.
Briefing Session: Adi Shakti will conduct a briefing session at 7pm on Wednesday 12 February (Aust time). The zoom link is:
https://zoom.us/j/831476178
. 
The briefing session is a great way to meet people (online) who are coming and ask your questions. This Ashram is quite different to Sri Sakthi Amma's Ashram in South India, especially for women, so please come to the briefing session if you can.
De-brief Session: Shakti Durga will conduct a de-brief session and lift at 7pm on Thursday 26 March (Aust time).
The zoom link is:
https://zoom.us/j/831476178
.
If you are from the United States and these times do not suit you, a recording will be sent to you as well as all other participants in case anyone misses the sessions.
Testimonials from our 2019 visit to Swamiji's Ashram for Holi Celebrations:
'Shakti Durga Retreats are phenomenal, beyond my wildest imagination.  This most recent retreat with Swamiji opened my heart to more love than I have ever known and my being to awe and wonder. As the retreat is winding down, I am filled with gratitude and embodied wisdom that I will bring home and share with all those I come into contact with.'  A.Grace, CT, USA
'This retreat with Shakti Durga was a deep journey into love. The teaching and support of staff provide a really safe and comfortable learning environment so I could have a deeper understanding of myself and the process of opening more to my soul self. This retreat was so fun and filled with dancing, laughter, light and hugs! I didn't know the participants before I came on the retreat but warmth and friendliness from all participants made it delightful. I have made some amazing friends. I have expanded my understanding of the true nature of things and I have come home with renewed love and commitment to the people in my life and my work. I feel deeply transformed and blessed... so grateful, thank you to everyone who made it possible! SL, London, UK